The Day Turns Out Just Fine
Well, I was seething after my trip was cancelled—again. And, again at the last minute, And again I had to ask a hotel to waive its one-night cancellation fee. And again I had to tell Alaska Airlines I would not be flying with them today. At least I was not at the airport asking the airline to retrieve my bag before it took off for the friendly skies.
My wife saw that I was pissed, and had the idea of the year—let's go to a Fall League baseball game! I had my work calendar locked up for planned travel, so why not. So, next thing I know, we are at Peoria Stadium watching the Peoria Saguaros host the Mesa Solar Sox. It brought a smile (sort of) to my face (see below).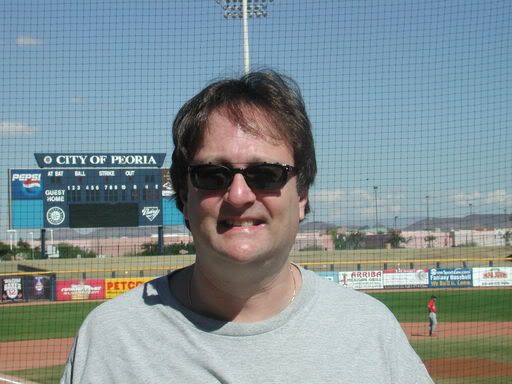 I was excited to see Delmon Young of Tampa Bay (see below) who was the top pick in the 2003 draft. He's a year or so away from the bigs and appears to be a five-tool player. Delmon is related to Dimitri Young (brother or cousin) and luckily, Delmon is slimmer and more athletic that his relative. Young walked once and made a great throw from right field, otherwise the day was all Saguaros.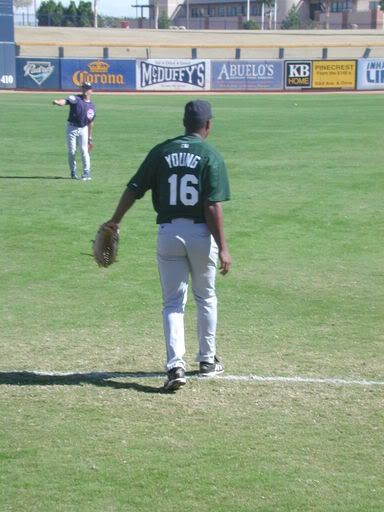 My players of the game (featured below) are Jason Botts of Texas (facing the camera) with an inside the park homerun (misjudged by the center fielder) and Nate McLouth of the Pirates (right). McLouth is a speedy center fielder with great speed and pop. He clocked one over the right field fence. Also noted is Alberto Concepcion of the Red Sox who also has great pop in his bat and looks good behind the plate. Jason Varitek is a free agent, so who knows?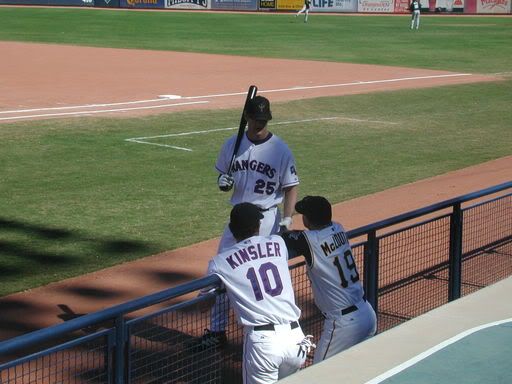 I spoke to Glenallen Hill, ex of the Cubs, Cuns, Indians and Giants. He once hit 24 home runs for the Giants and I remember Dusty Baker speaking of Hill with great praise as a player and clubhouse influence. So, I asked Hill (a coach in the Rockies system) if he was aiming to follow in Dusty's shoes. All he said was "Dusty is a good man." I take that to be a yes. One more note: Hill is from the Santa Cruz area-just like Mike.