A Wonderful Time with my Best Friend
Vacation is over. Wow, it was short but truly wonderful. We crammed a ton in just four nights. Now that we are home, it seems like a dream as we moved about the Bay Area eating some great food, seeing some of our favorite people and just being together (my favorite thing in the world).
Here are a few highlights: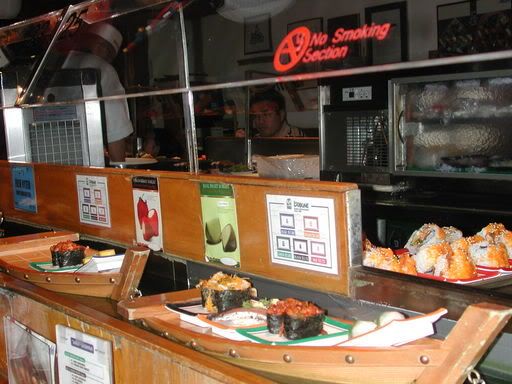 We ate at Isobune (above), a sushi place in Japantown where the sushi comes around on conveyor belts. The sushi there is fresh and the place is fun. It's not as good as..say… Shiro's in Seattle but it's an experience.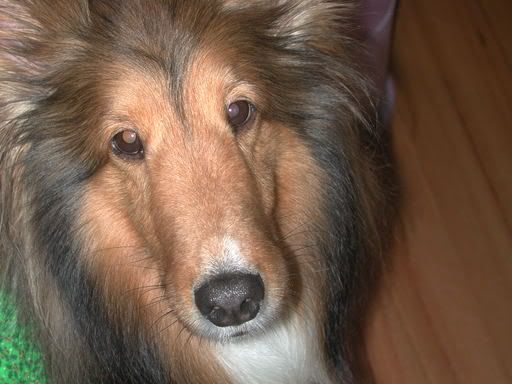 I got to see and play with Ian (above). Ian and his sister Lucy are the dogs of Christina, the woman who used to cut both my and my wife's hair. We ventured over to Tiburon on Friday for my wife to get a haircut and for me to play with Ian (and Lucy). Ian is my second favorite dog of all time. He's a Sheltie who is just so smart and full of personality. He plays a game with me where we tug on a toy and then he expects me to toss it and then he comes back for me. If you do not play up to his standards, he'll bark and even nip and your pants. Ian is awesome. Lucy is kinda cute herself,
After our haircut/dogfest, we went to Marin Joe's to have a bowl of their famous Manhattan Clam Chowder (the red kind) and to see our good friend Georgette (whose email address is hiyoyo..don't' ask me what it means) , a waitress there (see below). We used to go to Marin Joe's for lunch every Friday. We went in good times and bad. We went when my wife was so weak from chemo she barely could sit up. We went when I couldn't walk after my botched foot surgery. It was our special place…it was our special time. Georgette was there for all of it, and it was great to see her smile again.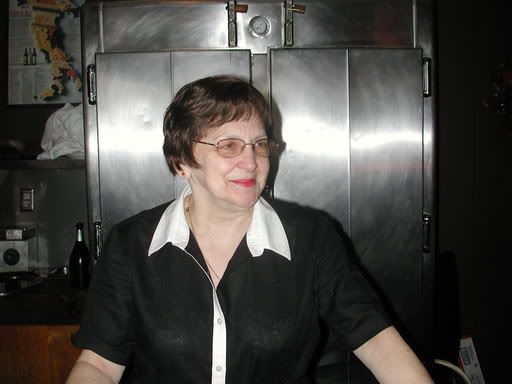 More memories to come, including the Kung Pao Kosher Comedy show (awesome); Hog Island Oyster review (awesome) and some other assorted things.