Catching the Pitchers
The forecast looks gloomy for later today, but we figured there might be a window of time to bolt down to the Giants pre-Spring Training park to gawk at pitchers and catchers. Bingo.
There were about 30 other nuts there, all very well behaved. The Giants have instituted a railing setup a few years ago to create a runway to allow the players on and off the practice field without being overly hassled. Still, many are very gracious about stopping to sign autographs for the fans.
Among those at the warm-up were:
Jason Schmidt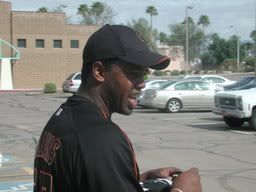 Jerome Williams
--a favorite of ours. He has a great smile and is wonderful with kids.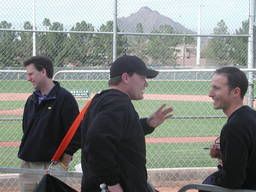 Matt Herges
And of course the man who is responsible for building the team
Brian Sabean
The position players arrive today. Barry is allegedly speaking to the press tomorrow about all the steroid nonsense. Hopefully, I'll be back later in the week with my new MPEG-4 video camera.