Reporters Notebook: Post-Vacation Musings
**One of the ways to get to SBC Park without the traffic hassles and the high parking fees is to take the ferry. We took the ferry from Tiburon to SBC (when it was called Pac Bell) for a pre-season game against Los Yankees before the official stadium opening in 2000. The ferry was (really, really) late coming back and it was right after my wife was diagnosed with breast cancer so it was a somber trip. Call it karma—we never did it again. Even if, four years later, the ferry isn't more efficient, it looks much cooler. This boat (see below) goes through McCovey Cove, the watery grave to many of Barry's big blasts.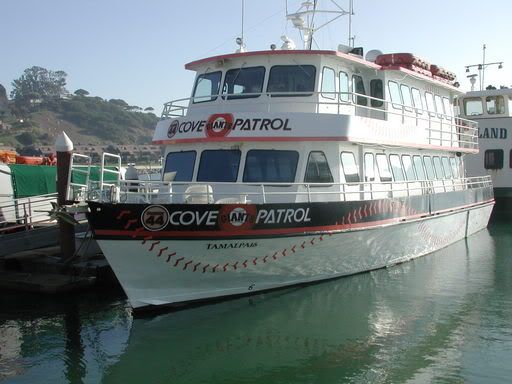 **My wife was delighted, but I was puzzled over the cotillion ball event at the Palace Hotel (where we stayed). It was a bunch of upper-crust sorts in gowns and tuxes. People oohed and aahed, yet I poo-pooed the entire thing. Not a single ethnic face was to be found. I reminded my wife that these are the people who elected George Bush.
**At the Lichtenstein exhibit at the SFMOMA, we noted one of the pictures was on loan from Steve Martin's private collection. Cool.
**On Friday afternoon, at lunch the Hog Island Island Oyster Co. at the Ferry building, a couple barged ahead of us to be seated at the counter. The woman said something to the host and they were seated at the counter after which we were seated next to them. I speculated that the woman was some sort of well-known country singer; I heard her say she would sing a Xmas carol in exchange for some BBQ-ed oysters, She had that country singer look and (since I know nothing about country music) could have been a multi-award winning s-kicking warbler.
**What is it with Ted, the United Airlines sub-brand? The airline refers to Ted as if it's a person. "Ted wants you to have a safe flight." "Ted wants you to put your seat back up." "Ted wants you to buy him some mouthwash." Wonder why United is in trouble?
**When we were at our Thursday afternoon tea break at the Ferry building, an Internet company was having its holiday party. The CEO, Mark Goldstein, wandered in to address his troops. I knew Mark when he first started in the "900 number" biz some 15 years ago. Mark is a shrewd business man who has made millions many times over.