Wild Night At Wild Oats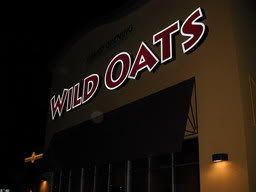 We made it to the opening of Wild Oats despite me being somewhat under the weather. (When the makers of Benadryl ® say diabetics should not take it, they mean it). The parking lot was overflowing about 20 minutes after the opening night bell went off. And it was startling; tons of freeloaders willing to wait in long lines in the parking lot for a sample of cheese or a tiny piece of BBQ-ed salmon. Yikes. And it was all people who are unlikely to come back and shop regularly at the store. (It's what we in the vernacular call the "old cocker" crowd).
Inside, the store was jammed with more people willing to wait in long lines. A piece of bread here, a sampling of smoothee there, a thimble-sized cup of free coffee, etc… The lines to
ACTUALLY BUY SOMETHING
were scant.
OK.. Stepping back for a moment, the store is nice. The produce is varied (we bought purple morning radishes, being former Marin County food s-n-o-b-s) and the seafood looks fresh. I could not see the meat department as there was a long line of freeloaders wanting a tiny piece of free fish. My gauge for a store in this realm is the tea selection. I have to say, it was superb. They had Tazo ® tea on sale for $2.99 a box and with the entire line on display. That trumps the $3.99 we paid the other day at the (beloved) Whole Foods.
Speaking of, Wild Oats is not and never will be Whole Foods. (Editors note—My wife and I own stock in Whole Foods). WF is unbeatable. It crosses the line of being a natural food marketplace to being a true gourmet food abondanza. Throughout the night, I whispered to my wife, "Our money is safe." The only "food store" that is in WF's league is the inimitable Trader Joes.