Dock Dog Day Afternoon
I have to admit even though saw the dogs jump off a dock on ESPN in competition last year, I was not looking forward to today's event. A few hours afterwards, I have to give it up for my wife—this was a fun and amazing time.
We wandered about Westworld and saw all the dog agility events from Frisbee catch to running a mock steeplechase. There were booths peddling all sorts of doggie-related wares. There was a Lab rescue center where they tried their darndest to send us him with a Lab of our own. My heart melted, but that's a story for another day. And there were dogs—I mean there were dogs everywhere! It was a veritable dog encyclopedia with dogs of all size and shapes from Great Danes to ones so small they could fit in your wallet. Oh, there also were a lot of RVs.
A Border Collie getting reading for an agility trial
A Black Lab wearing goggles for no particular reason
The dock dog event is what we came to see. It was wild as these four-legged athletes showed focus and style. There were 12 dogs in the competition and they started with an elimination round of two jobs with the top four moving on to the finals. To me, an amazing German Pointer named Sarge looked to be the one to beat. Gabe, however, a Border Collie from Nevada, had a lot of style and could fly like Jordan. Plus
Gabe
did have a goofy nature about him with many false starts before he dazzled the crowd with jumps in excess of 20 feet.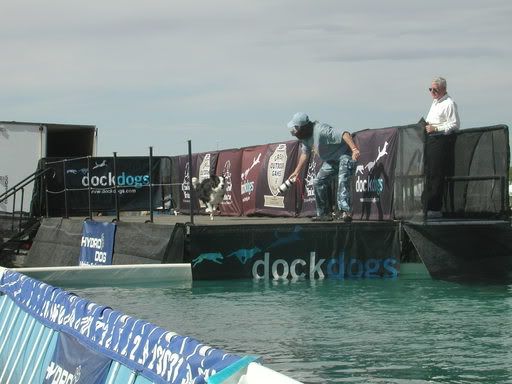 One of the dogs getting ready to fly through the air to a wet landing
In the finals, Gabe showed off his talent and won with a jump in excess of 21 feet. Sarge came up last with the chance to win but fell slightly short. Tucker, a Black Lab handled by the same person who handles Sarge, was very solid, but came in third. Afterward, we went over to pet the finalists.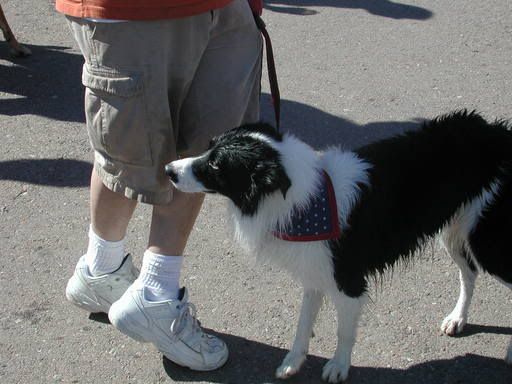 Gabe, the flying Border Collie-a wet winner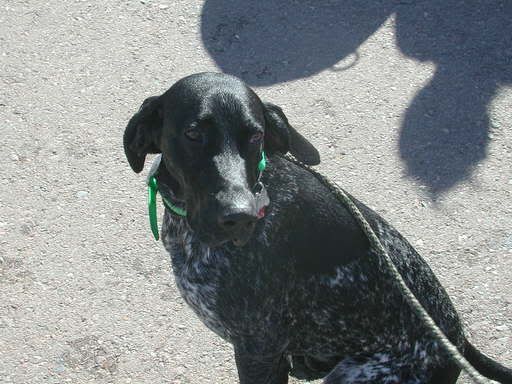 Sarge—he won our heart